Biomedics 38 (UltraFlex 38)
Biomedics 38 (UltraFlex 38 ) are weekly disposable contact lenses manufactured by CooperVision. Biomedics 38 is a great choice when your eye-care practitioner recommends a lens with lower water content. Biomedics 38 sphere lenses offer a high level of performance as well as improved durability and dehydration resistance. Biomedics 38 lenses' lower water-content material ensures superior handling, while patented manufacturing and a superior lens design work together to give you outstanding comfort and performance.
Biomedics 38 lenses are also sold under a number of store brands (including Ultraflex 38) specific to eye doctors and optical chains. All orders will be shipped as either Biomedics 38 or Ultraflex 38. Biomedics 38 lenses are tinted for ease of handling and will not change the color of your eye. The tint is simply designed to facilitate locating the contact lenses in solution.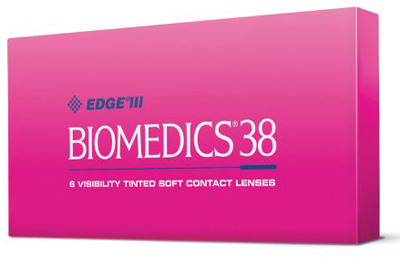 Stamper Optometry
2508 Mission St (at 21st St) San Francisco, CA 94110