Acuvue – 1 Day Moist Dailies
1-DAY ACUVUE MOIST gives you a fresh start every day with a new, clean pair of lenses resulting in the healthiest and most convenient way to wear contact lenses. Each lens is precision crafted to provide exceptionally accurate vision while also assisting to protect your eyes from ultra-violet light.
According to a new FDA approved claim, 1-DAY ACUVUE MOIST Contact Lenses worn daily may provide improved comfort for people with mild allergic discomfort and eye itching. With over fifty million Americans suffering from allergies, many lens wearers experience increased allergic discomfort due to their contact lenses, making daily disposable contacts a good choice for those with allergies. Each box contains 30 soft daily disposable contacts in buffered saline solution. 42% polymer (etafilcon A) 58% Water.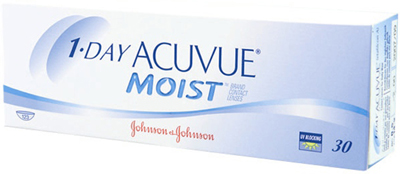 Stamper Optometry
2508 Mission St (at 21st St) San Francisco, CA 94110