Acuvue – 1 Day TruEye Dailies
Designed to enable existing wearers to upgrade without being refitted, 1-DAY ACUVUE® TRUEYE contact lenses is the world's first silicone hydrogel daily disposable contact lens. Until now contact lens practitioners have had to choose between prescribing a daily disposable or a silicone hydrogel lens for their patients.
Daily disposable lenses have fewer complications (inflammatory, allergic, or toxic) and are ideal for patients who want an irregular wearing schedule for sports or social events. Silicone hydrogel lenses on the other hand, have vastly superior oxygen transmissibility, which allows the cornea to breathe naturally through the material of the contact lens – the benefit of which is healthier whiter eyes and the removal of a medical side effect of wearing contact lenses – corneal hypoxia
1-DAY ACUVUE® TRUEYE are made from Narafilcon A – an innovative silicone hydrogel material saturated with a locked-in super smooth wetting agent which does not slow release onto the eye. This distinction from other daily disposables is important since a recent change for manufacturers is to include chemical additives into the material of daily disposables which were previously additive-free.
Patients changing to 1-DAY ACUVUE® TRUEYE will regain incredible white eyes and comfort at the end of the day because the super wet and super smooth surface has one of the lowest friction coefficient of any daily disposable lens on the market today – even exceeding Acuvue 1-Day Moist – this is fantastic news for contact lens wearers tolerating gritty pink eyes after a long day.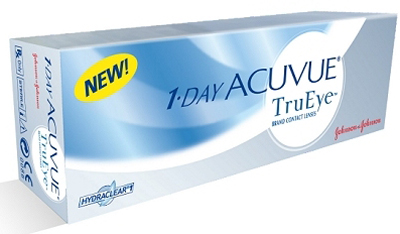 Stamper Optometry
2508 Mission St (at 21st St) San Francisco, CA 94110