Air Optix
Are you an active person with a nonstop schedule? Do you like to go, go, go, even if it means wearing your lenses from dawn to dusk? If this sounds like you, and you have trouble with tired or dry eyes late in the day, Air Optix Aqua contact lenses may be the best lens for you.
Air Optix Aqua contacts are designed with a state-of-the-art material that allows for up to five times more oxygen than traditional soft contact lenses. Manufactured by Ciba Vision, these lenses maintain their moisture level throughout the day. The patented lens material boasts an immensely smooth surface that resists deposits, which means your eyes won't get tired and your vision will stay crisp, even into the early morning hours.
Although actual wear recommendations should come from you doctor, Air Optix Aqua contact lenses are designed to be worn either daily for four weeks or up to six nights of extended wear.
Material: lotrafilcon B
Water content: 33%
Handling tint: light blue
6 Lenses/box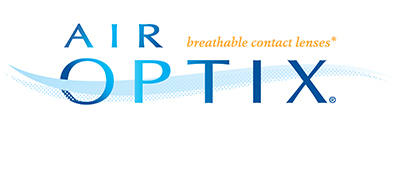 How long can I wear Air Optix contact lenses?
Air Optix Aqua Contact Lenses are usually prescribed as a monthly wear lens. This means that a wearer can keep the lens in their eye for about 12-14 hours a day while taking them out at night. As long as this routine is followed, the Air Optix contacts can be worn for up to 30 days use. After 30 days the Air Optix Aqua contact lenses should be disposed of and a new pair opened.
Can I sleep in Air Optix contact lenses overnight?
At the discretion of your care practitioner, Air Optix Aqua contacts may approved for overnight wear, up to six days followed by at least one night with them out. If the lenses are overworn, sleeping with contacts is not recommended as there is a higher risk of developing complications such as corneal ulcers or neovascularization.
Can I wear Air Optix contacts for dry eyes?
Air optix Aqua contact lenses are more breathable than standard contact lenses, and are made with only 33% water content. This makes them great contacts for dry eyes because, generally, the lower the water content, the more comfortable the contact lens is for dry eyes. This more breathable family of Air Optix contacts delivers a natural, healthy feeling by allowing more oxygen to pass through the lens helping to promote healthy eyes. The patented lens treatment of All Air Optix contact lenses is resistant to protein deposits which result in lens discomfort and a shorter wearing time.
Stamper Optometry
2508 Mission St (at 21st St) San Francisco, CA 94110