Biofinity Toric
Bioinfinity Toric Biofinity Toric is a high performance silicone hydrogel lens which utilizes an innovative material to provide many patient benefits including:
High oxygen performance helping to keep eyes white and healthy
Soft and moist lens material for excellent all day comfort
Round lens edge for great comfort
Our most advanced lens design to correct astigmatism. Biofinity is different from other high oxygen lenses because it is manufactured softer for excellent comfort.
AQUAFORM® is the technology behind the Biofinity Toric comfilcon.  A material that makes it wettable and is one factor that makes Biofinity such a comfortable lens.
AQUAFORM is naturally wettable and establishes hydrogen bonds with water molecules holding water within the lens making the lens soft, wettable and resistant to dehydration and resistant to deposits. Biofinity's unique silicone monomers mean that oxygen is transmitted very efficiently through the lens. The result is a lens with very high oxygen transmission AND a high water content—for a softer and comfortable lens.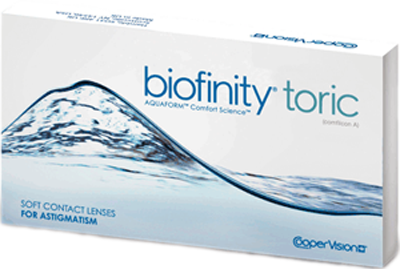 Stamper Optometry
2508 Mission St (at 21st St) San Francisco, CA 94110