Cooper Vision – Biomedics XC
Biomedics XC You've got too much going on to worry about uncomfortable contact lenses.
So make sure you wear the two-week contacts that won't quit before you do: new Biomedics XC lenses from CooperVision.
 Biomedics XC lenses utilize patented PC Technology™ to create a unique material that contains molecules pf phosphorylcholine (PC), a substance found naturally in human cell membranes. These PC molecules attract and surround themselves with water, keeping Biomedics XC lenses healthy, moist, and comfortable all day long.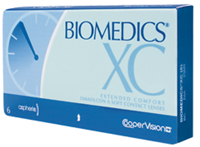 Stamper Optometry
2508 Mission St (at 21st St) San Francisco, CA 94110