Ciba Vision – Weekly Disposable Freshlook Handling Tint
CIBA Vision FreshLook Lite Tint Flexiwear contacts, also known as FreshLook Handling Tint, are disposable soft contact lenses that are designed with both comfort and convenience in mind.
With 55 percent water content in each lens, the FreshLook Handling Tint contact lenses are designed to improve both the health and daily comfort of your eyes. Also, as a 1-2 week disposable contact lens, it's replaced long before the wear and tear sets in, and before the lens develops uncomfortable protein deposits. As always, follow the recommendations of your eye care professional regarding duration of wear before replacement.
For convenience, these contact lenses are tinted for easy handling. The tint will help you locate the lenses in solution, but won't change the color of your eye. FreshLook Handling Tint contact lenses also feature an inside-out "FL" indicator which helps make sure that you are inserting the lens correctly.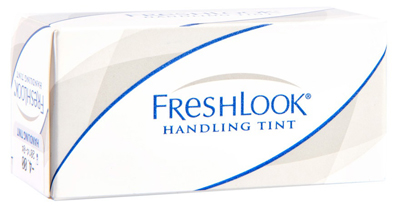 Stamper Optometry
2508 Mission St (at 21st St) San Francisco, CA 94110