Ciba Vision – Focus Dailies Toric
The AquaRelease moisturizing agent is released gradually as the day wears on – a little bit each time with every blink. That means time-release comfort. And even better end-of-day comfort than original Focus DAILIES**.
It's ideal for people who are new to contact lenses. Like teens who are active in sports. Or anyone, for that matter, whose glasses just seem to get in the way of their busy lifestyle. Focus DAILIES lenses are also available for those who have astigmatism or need bifocal lenses. Also, Focus DAILIES now include a light blue tint for ease of handling and insertion (yet so faint that it won't change the color of your eyes). Ask your eye care professional about Focus DAILIES contact lenses with AquaRelease.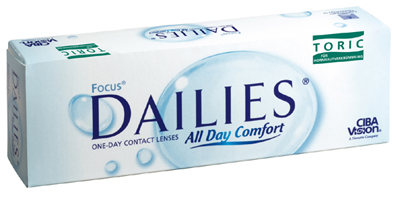 Stamper Optometry
2508 Mission St (at 21st St) San Francisco, CA 94110