CLEAR AND COMFORTABLE VISION
Between sunlight, indoor lighting, and most digital screens, blue-violet light surrounds you every day. Help stay protected with lenses that block out Harmful Blue Light while still allowing beneficial blue-turquoise light to pass through.

Introducing the NEW Crizal Avanc© with Scotchgard Protector lenses – the AR lenses made to stay clean.
Crizal®, the #1 AR brand for Eye Care Professionals, and Scotchgard Protector, the #1 consumer brand in protection, have joined forces to give you the ultimate in cleanability and protection.  Crizal Avanc© with Scotchgard Protector lenses repel stains, dirt and smudges better than any other, making them the easiest to clean.  And, while many AR lenses offer an easy-to-clean surface when new, the effectiveness of this feature deteriorates over time, leaving the lenses difficult to clean.  Independent Lab tests prove Crizal Avanc© with Scotchgard Protector lenses start out the easiest to clean and stay that way over the life of the prescription.  For more information, please visit www.Crizal.com.

Crizal lenses: The Industry Standard
Since the introduction of the first Crizal lenses in 1997, Crizal Anti-Reflective (AR) lenses set the industry standard in aesthetics and performance.  Crizal lenses are specially designed using revolutionary integrated methods that combine anti-glare properties with industry-leading, double-sided scratch resistance.  This same technology has been applied to sunwear with Crizal Sun, the first anti-reflective designed specifically for sunwear lenses.  With Crizal Sun, your sunwear lenses virtually eliminate discomforting backside glare and eyestrain for year-round outdoor protection.  For more information, visit www.CrizalSun.com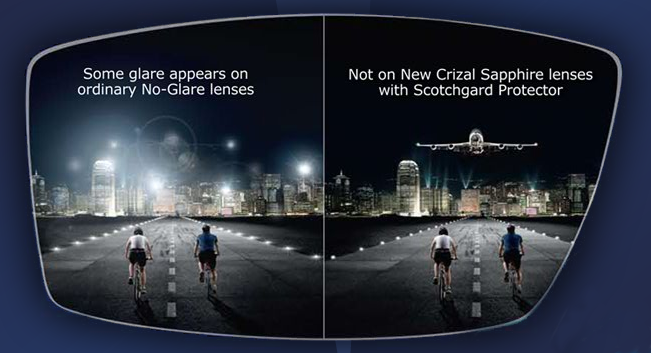 Crizal Sapphire lenses with Scotchgard Protector the Clearest No-Glare Lenses Ever Created
98% of No-Glare wearers will purchase a No-Glare lens for comfortable vision and aesthetics.1 This is why we created the most glare-free lenses — Crizal Sapphire lenses Scotchgard Protector.
Now, patients can enjoy the ultimate clarity of vision:
50% less reflection than the best No-Glare lens on the market today for enhanced visual comfort and greater aesthetic appeal
The best scratch resistance for a lens which is more durable and eliminates visual distractions
The best cleanability so fingerprints, water and smudges easily wipe away
The best dust repellence so your lenses stay cleaner longer
But that's not all. Crizal Sapphire lenses with Scotchgard Protector also incorporate Essilor's proprietary scratch resistance technology and cleanability to build the ultimate No-Glare lens.
Superior No-Glare Performance – The key innovation of this product is enabled by the Enhanced Light Transmission (ELT) System a technology which maximizes light transmission through the lens by even further reducing glare and visible reflections. As a result, Crizal Sapphire lenses with Scotchgard Protector have 50% less reflection than the previous industry leader – Crizal Avanc© with Scotchgard Protector.
Best Scratch Resistance – Crizal Sapphire lenses with Scotchgard Protector feature the SR Booster layer. This technology raises the scratch resistance of Crizal Sapphire with Scotchgard Protector to a level unmatched by any competitor.
Unmatched Cleanability – Crizal Sapphire lenses with Scotchgard Protector utilize Essilor's proprietary High Surface Density (HSD) process to achieve the industry's best cleanability with a contact angle of 116°.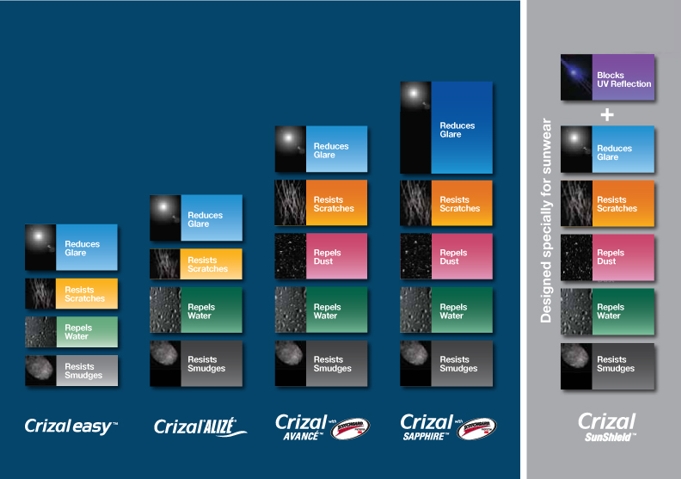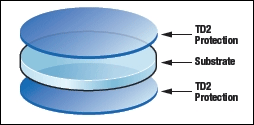 Tough, durable, 2-sided lens coating.
The use of the nanocomposite technology has improved the scratch resistance of TD2 coated lenses against both light abrasion and deep scratching. This coating helps to protect your lenses from daily wear and tear.
The treatment that protects your backside 40 % The lenses returned for scratches are for scratches on the backside of the lens. Under normal wearing conditions scratches occur on both sides of the lens. Both sides of your lenses get dirty… both sides must be cleaned. Unfortunately, as you will discover, the cleaning process is abrasive and can cause scratches on both sides of your lenses.
TD2 technology allows for innovative uses. It is specifically formulated to optimize the scratch-resistance of each individual lens material. TD2 is tough TD2 intergrates glass-like silica particules into its polymer matrix. They impart a hardness and scratch-resistance that is superior to other scratch-resistant coatings available.
TD2 is Two sided TD2 is developed for consistency and effectiveness on both sides of the lens, no matter what desing or material it protects. With TD2, both sides of the lens are coated for dependable and equal protection. TD2 is durable The ploymer matrix provides the flexibility required for the expansion and contraction of plastic lenses. If the hard coat is too rigid, any expansion, contraction or impact can crack the hard coat. TD2 creates a tough, yet flexible, protective layer by intergrating the flexible ploymer matrix with the glass-like silica particules.For more information visit www.essilor.com