SynergEyes – Duette Gas Permeable Contact Lenses
The design of the new FDA-approved hybrid lenses eliminates common problems associated with soft toric contact lenses for astigmatism correction, such as less-than-optimal vision, night vision problems and instability on the eye, according to the company.
The central rigid gas permeable zone of the new hybrid lenses provides high oxygen permeability and blocks harmful UV rays, and the surrounding skirt of soft silicone hydrogel material contains 32 percent water and also features high oxygen permeability for eye health, according to SynergEyes. Also, a patent-pending surface treatment, called HealthyEyes, increases lens wettability and resists protein deposits to maximize comfort, the company says.
Duette hybrid contact lenses currently are available in powers for correction of up to 12.00 diopters (D) of myopia, up to 4.00 D of farsightedness and up to 6.00 D of astigmatism.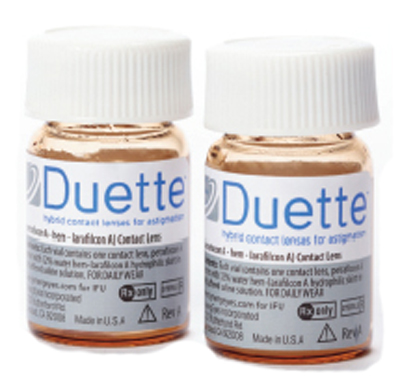 Stamper Optometry
2508 Mission St (at 21st St) San Francisco, CA 94110