Avaira
New Avaira contact lenses from CooperVision are made from a unique material that attracts and binds water within the lens itself, keeping the lenses moist and comfortable without the need for additional lens surface treatments or wetting agents like other silicone hydrogel contacts.
To help keep your eyes clear and healthy looking, Avaira lenses are also exceptionally breathable, meaning more oxygen is able to pass through the lens to your eye. It's all the result of our unique Aquaform® technology. Available exclusively in select CooperVision contact lenses, Aquaform technology creates a softer, more flexible lens material, contributing to Avaira's extremely comfortable lens wearing experience.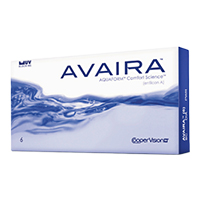 20% off Frames
30% off Sunglass Frames
Cannot be combined with other offers. Cannot be combined with insurance.